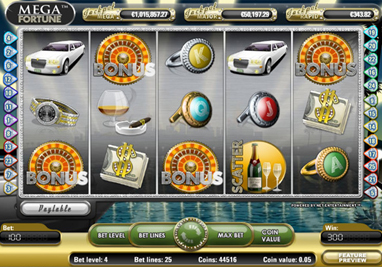 A Review of the Big-Jackpot Mega Fortune Slot
Big wins online are rarely anywhere close to the jackpot paid out by the Mega Fortune Slot. This paid out more than 17 Million euros in one spin to a lucky player – whose life most probably changed forever at that moment. This is an online video slot game created by Net Entertainments, otherwise known as NetEnt. The secret to the big prizes is that the progressive jackpot on this machine is linked between all the casinos who offer the game.
The page gives you a complete overview of the Mega fortune Slot game. First of all, I have described the setup and basic game-play features of this slot – including how you can access it on different devices. After that you will find some information on the bonus round, which is where the big money payout can be yours. After that I have asked the question of what type of player this particular slot game will appeal to – followed by a brief look at some alternative games.
Mega Fortune Slot Setup and Game Basics
This is a 5 reel video slot, with a choice of up to 25 win lines for any one spin. The symbols that you need to line up are things like Champaign, boats and rings – giving you the overall impression of a game for the rich. You can enjoy this game for as little as 50c a spin, though the upper limits can hit a huge $50 each time you spin the reels. Any spin can win a jackpot, with your chances proportional to the stake you use.
There are plenty of smaller wins to keep your bankroll topped up, so this is not an 'all or nothing' type game. What you are aiming for is to hit 3 bonus symbols at the same time, which sends you to the bonus feature round (more on that below).
This game is available via your browser window at many leading casinos. Each time someone spins at any casino offering the game, part of their stake is taken to build the jackpot. This is worth more than a million euros most of the time, and regularly goes even higher.
This slot is not licensed to any US friendly casinos at this point in time.
The Mega Fortune Bonus Round
This is the kind of bonus round which everyone dreams of. There are just a few spinning wheels between you and potentially life changing money. Of course, you will not win the big one every time. What you will find is that there are plenty of smaller payouts which are also very welcome available here.
You will get taken to a new screen with 3 wheels, one inside of the other. The outside wheel has a lot of prizes, and also can stop on arrows which point inwards towards the next wheel along. This one has bigger prizes, and also has arrows, taking you to the 3rd wheel. You guessed it, even bigger prizes on this one, including one last arrow which points you to the mega jackpot. That would certainly be a spin that you would not forget in a hurry!
In addition to the biggest jackpot, there are two smaller ones associated with the Mega Fortune slot. These are minor and rapid jackpots – and can still be worth winning.
Who Should Play The Mega Fortune Slot?
This game is reasonably interesting to play, with just enough action to keep the casual gambler entertained. The bonus feature does trigger reasonably often, though you will not usually win huge amounts. This does keep the interest levels up somewhat though.
Players looking for truly entertaining slots can find many alternatives which are slicker and more modern than Mega Fortune. Examples include some of the PlayTech or MicroGaming progressives which are tied in with movie or comic-book franchises.
If you would enjoy a relaxing slots session which does not involve too many decision points or interactivity, then this could be a great choice of slot game for you.
Other Big Jackpot Online Slots You Could Consider
There are several slots which are in the same league as Mega Fortune when it comes to big payouts and relatively straightforward game-play online. The most popular game is the Mega Moolah slot from MicroGaming. This combines a distinctive orange theme with wild animals and the chance to win a progressive jackpot which is shared between many different MicroGaming Casinos. Also by this casino software house, you will find Thunderstruck 2 is the latest popular game , with the potential to win big money included.
US online casino fans can find progressive jackpots at casinos which offer the Real Time Gaming software suite. If you check out the 'real series' slots, you can find games which pay out their progressive jackpots randomly, regardless of what is showing on the reels for that particular spin.