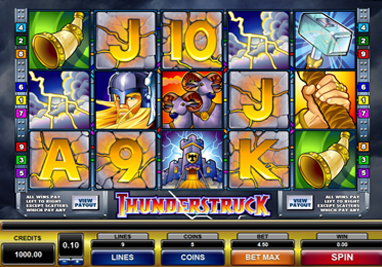 A Review of Thunderstuck and the all-new Thunderstruck 2
Thunderstruck has become a firm favorite with online slot fans outside of the US. This slot was first released in 2005, and 2010 saw the release of an upgraded version – Thunderstruck 2. These games are the creations of online casino software giants MicroGaming. The game-play is straight forward on both versions, with bonus rounds, free spins and the chance of scooping that $5,000 top prize the main attraction of the games.
This page gives you a complete guide to the Thunderstruck slot machines. I have started off with the original machine, giving you an insight into what made this theme so popular in the first place. Next the second version is looked at in detail. This is now one of the most popular slots anywhere online – and with good reason. After that you will find some thoughts on the advantages and disadvantages of choosing this slot compared with the 100's of other titles available.
The Original Thunderstruck Slot Machine
2005 seems like an eternity ago compared with the speed at which online casino gaming has changed. The original Thunderstruck slot machine still manages to hold up well against some of the simple games being brought out today. This is a 5 reel video slot loosely based on a 'Thor' theme, though it does not actually use that name. Symbols including the hammer, a winged horse and other mythological artefacts make it clear what we are dealing with.
There are 9 winning lines, and you can select the amount you want to play and your coin value. The main feature of this slot is a free-spins round, which you trigger by getting 3 ram symbols on the screen. A unique feature of this round is that you get a chance to double the money you win during your free spins after the round is completed. This is a simple red / black choice from a deck of cards. At the time it was first released, even free spin rounds were the exception and not the rule, which helped generate the interest in these games which has carried through to the present day.
This information is more from a historical perspective, the newer version is so much better that very few people play the older one nowadays.
The Newer Thunderstruck 2 Machine
This machine is not the latest generation of slots and was first released in 2010. Even at 4 years old, it remains one of the most popular slots on the entire MicroGaming network. The graphics are completely updated from the first version with smart animations as well as static images. Interestingly, this machine has done away with the concept of win-lines, or at least the number of these you can select. Instead you get the full 243 combinations of symbols in play on every spin. You can still choose your coin size, which is multiplied by 30 for each spin. One thing to note is that it is difficult to see what all of the winning combinations are until the game tells you.
There are a lot of features on this game, including a more advanced version of the free-spins round which made the original game so popular. You are aiming for the 'Great Hall of Free Spins' where you can hit some big money payouts. This is based on winning with a range of different symbols (achievements) which eventually turns the pay table gold. At this point the real prizes start, including the $5,000 top prize.
To add to the fun there are different free spin bonuses to unlock during normal play, with multipliers going up to 6x for some games.
Pros and Cons of Thunderstruck 2
There is a lot to like about this machine, and it is easy to see how it has become one of the most enduringly popular slots at MicroGaming casinos. The downside is that there is no progressive jackpot on this game. What this does mean is that there is more money given out in smaller wins. The variance of jackpot games is always higher, since part of each coin gets removed to help the jackpot grow. With smaller payouts more gets recycled instead. This means you'll see your bankroll last longer, and that $5k win is still enough of an incentive to keep most slots fans interested.
My view is that the playability, regular small wins and bonuses and the chance of the 'big one' all combined make this a must-play slot.
Thunderstruck 2 on Mobile Devices
This slot has proven so popular, that it is one of a small selection of MicroGaming slots titles that have been ported over to both Android and iOS apps. This allows you to enjoy a quick spin of Thunderstruck 2 while you are on the move – as well as from your PC or laptop.