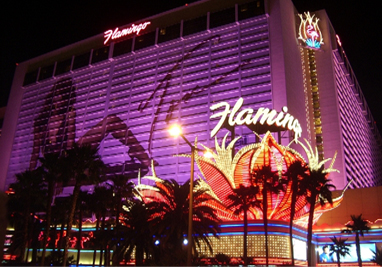 Overview of the Flamingo Hotel and Casino Las Vegas
The Flamingo is one of the oldest resort casinos in Las Vegas, and has a fascinating story of intrigue involving the Mob from those early years. Today this is a huge hotel and casino complex, right in the middle of the Strip, with shows, a huge casino and plenty of conference space this venue always has a lively feel to it. Currently the Flamingo is owned by Caesars Entertainment, which was known as Harrah's until 2010.
This page gives you a detailed overview of the Flamingo hotel and casino. First of all, you will find the history of this venue, along with some of the key features that you will find there today. After that the casino is the focus of attention. I have wrapped up this page with a look at the shows and entertainment that the Flamingo offers.
Flamingo Hotel and Casino – History and Features
This casino was opened way back in 1946, though at the time it was little over 100 rooms. Today this is a big hotel, with a huge 3260 rooms ranging from basic setups to suites. The early days of this hotel saw mob involvement, as shady characters, including Bugsy Siegel came from out of state to invest in the new legalized gambling environment. Siegel was not to last long enough to see his project become a success. He was shot at home in 1947, with allegations he was skimming money from his mob partners the most likely cause. This hotel is named after Siegel's girlfriend, who was said to have had long skinny legs.
Today, this hotel has a wildlife sanctuary in a courtyard, which includes real flamingos. It also has a large casino, popular shows and extensive conference facilities. The hotel here is not as expensive as some of the other resorts, which maintains the mass-market popularity – and keeps the casino full too.
The mob owned this casino in different ways right up until the 1960's. The Flamingo was bought by Harrah's in 2005. This company later became Caesars Entertainment. There are several casinos now owned by this company, if you sign up for a players card at any of them, you can collect points at any venue. These can be swapped for buffet lunches or special deals on upgrades.
You'll find a great selection of restaurants in this hotel, which include a highly regarded buffet. The showcase restaurant is the Center Cur Stake house – with Mexican Food available from Carlos and Charlie's.
The Casino at the Flamingo
The casino here is busy, with a lot of through-traffic and from the hotel and people coming and going from the shows. The total size is 75000 square feet, this includes the somewhat separates Margartaville Casino area – an extension of the main floor right along the strip sidewalk.
The slots here are packed with different titles, they are noisy and bright. You'll find every type of slots game you can imagine crammed back-to-back here. There are a lot of old school video slots and 3-reel slots, with simple features and often big payouts. At the other end of the scale you'll find the latest intense interactive titles, which you'll need to focus on to get the most from the bonus rounds and features. Many of these have TV or movie tie-ins.
Table games are laid out in two very long rows, back to back here, with one of the main thoroughfares between them. You'll find the limits low ($5 on the majority of games), and the variety of games very good. There are plenty of variations on the common themes of Blackjack, Casino poker and niche games too.
The flamingo poker room is smaller and friendly, you'll be far more likely to see tourists enjoying the games and tournaments here than poker pros. There are several tournaments a day with moderate buy-ins. I recommend you compare the proportion of your buy-in which is removed as a fee, as this seems high by the standards of other casinos.
There is a sports book here which is nicely laid out with neat rows of leather chairs. There are plenty of monitors, big and small, which will allow you to keep an eye on your favorite sport – which includes all the pro leagues as well as Horse Racing.
Entertainment at the Flamingo
This is a real mixed bag, which is designed to appeal to the broad cross section of people who stay at this casino. The regular 'headline' musical act is Donnie and Marie Osmond, who have their own merchandise store on premises. At the other end of the spectrum is the adult show X-Burlesque, which has been running for many years in this venue. There have been many notable one off shows including appearances from legends including Gladys Knight and Toni Braxton.