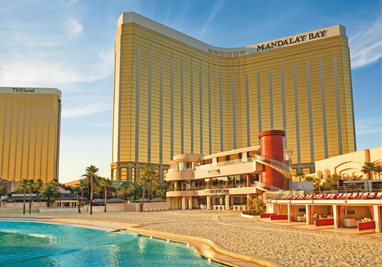 Overview of the Mandalay Bay Hotel in Las Vegas
The Mandalay Bay is a giant hotel and casino resort in the mid southern end of the Las Vegas strip. This famous hotel includes a huge convention center, casino, and an aquarium filled with sharks. This resort was built by a group called Circus Circus, who also created the Excalibur and Luxor hotels. It was bought by MGM resorts in 2005.
This page gives you a detailed overview of the Mandalay Bay Hotel. First of all, the history and key features of the resort are covered. After that you can find out about the gambling opportunities here, including the casino and poker room. Finally, some of the entertainment opportunities are examined, this includes shows and restaurants.
Mandalay Bay Hotel – Features and History
This is another of the Strip's larger hotels, with a huge 3,309 rooms. It was opened in March 1999, after issues with the structure sinking caused some delays. The design has 3 distinct wings, which is very similar to Treasure Island and the Mirage. This hotel is linked by a tram which links the Excalibur and Luxor hotels.
Many people do not realize when staying here that the top 5 floors are, at least legally speaking, a separate hotel. These are owned by the Four Seasons. There is now a separately managed second tower, with an additional 1120 suites, this is called 'THEhotel at Mandalay Bay'. The new owners, MGM Mirage, took over in 2005.
There is a big water theme to the attractions here, with a wave-pool being a central (and unique) feature which sits at a fake beach. This produces waves of between 2 and 4 feel. There is also separate 'European Style' bathing. Completing the aquatic theme is an aquarium which heavily features sharks – this is the tourist attraction at this hotel which attracts visitors, who hopefully stay to enjoy the casino and the other facilities.
There are separate event and convention centers. When it was new the convention center was the 5th biggest worldwide, and hosts conventions and conferences all year round.  In the past, this has been the venue for the Miss Universe contest and UFC matches. There is also a shopping mall which links this hotel and the Luxor, this is called the Mandalay Palace.
The Casino at Mandalay Bay
With 135,000 square feet, the casino at this hotel is as big and as impressive as the accommodation. There are several stand out features here, along with the usual spread of table games and slots.
As with most casinos, the majority of the floor space is given over to slots. These are a huge draw and include many of the next-generation video slot titles with interactive video-game bonus rounds. For those who prefer more relaxed slots play, there are traditional 3-reel slots, and the regular video slots which have free spins rounds, jackpots – through nothing too intensive.
You'll find high limit gambling here, away from the regular crowds, and the Asian themed Lotus room, which heavily features Pai Gow Poker.
If player v player poker is your game, then you should check out the 24 hour poker room. There are even lessons for new players here at 2pm Monday through Thursday. There are regular tournaments, many with smaller buy-ins to make them an entertaining diversion for tourists, and cash games include a wide variety of poker variations including Omaha and Crazy Pineapple.
Topping off the main live gambling options is a 24 hour sports book, you can bet on racing, pro sports and find many lines on international sports here too. This area of the casino include 17 large screen TVs, and tables with individual monitors, so there is no need to miss a single moment of the action. The sportsbook at Mandalay bay also includes a VIP luxury Box which is available for groups of up to 8.
Mandalay bay has an online slots app, where you can try out many of their slots for free. No real money bets are possible on this website, though you can earn comp points while you are playing. See their website for details of this app.
Entertainment at Mandalay Bay
The entertainment schedule in the events center and convention hall is varied, and worthwhile keeping an eye on. You will also find regular shows in the main hotel, at the moment the Cirque de Soleil show 'One' which is themed on Michael Jackson is the main show – though these change every few years.
In addition the 'House of Blues' is another major attraction, this features live music and dining and has a capacity of 1800 people. There is a separate 'Foundation Room' on the top floor which has a balcony looking down the strip.
Topping off the entertainment list is the Light nightclub, and impressive list of 24 restaurants.