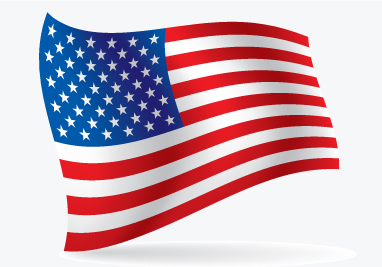 An Overview of Casinos in the US
The US is a country of extremes when it comes to casinos. On one hand the biggest and best casino destinations anywhere in the world are here. On the other hand there are States which are so dry that you'd need to travel for hours to find the nearest place to gamble. In the virtual world, online casinos are in a grey area here, with many financial transactions between banks and gambling sites banned. This means that the only online casinos operate from offshore, out in the Caribbean.
This overview of the US casino scene starts with live casinos, giving you a list of the major destinations for these. After that you'll find an overview of what the most popular games are for US players in these venues. Next is a more detailed look at online casinos, with a brief note about the newly regulated online gambling at a State level at the end.
US Casinos – From Las Vegas to Connecticut
There is no doubt that Las Vegas, Nevada is the first place most people around the world think of when the subject turns to live casinos. The resort hotels of the Las Vegas strip are famous in their own right, and the bets turned over here are measured in the billions. This is far from the only destination for gamblers in the US. In fact there are casinos dotted all over the country, including some amazing establishments as well as smaller local venues.
Atlantic City is considered to be number 2. Located in New Jersey, this is the number one destination for the densely populated east coast, and includes some huge resorts. More recently Atlantic City has had competition from expanded casino interests in neighboring States including Pennsylvania and Maryland.
Connecticut is another gambling hotspot, with the Tribal casinos of Foxwoods and Mohegan Sun being destination resorts for the North East region. The southern States also have a big casino industry, with Florida and Louisiana hotspots and many more States besides. On the west coast California, Washington and Oregon all have live casino action.
Many of the otherwise 'dry' States have casinos built on tribal lands. Those who lack these often see creative measures such as 'cruises to nowhere' in ships which sail into international waters to allow gambling.
Popular Games in US Casinos
Slots dominate just about every US casino. In many cases these will take up between 70% and 80% of the available floor space and number 1000's of machines. These games have really taken advantage of technology recently, becoming more interactive and entertaining. Instead of just watching the reel spin, you can now see video clips and partake in arcade-game like bonus rounds.
Poker will always be big game in the US, and the casinos include many poker variations as well as dedicated poker rooms where people can play against each other. You'll find Pai Gow, Ultimate Texas Holdem, Let It Ride and many other variations.
It goes without saying that Blackjack and Roulette will always have their fans on the casino floor. Keep in mind that the 'double zero' US Roulette wheel has a higher house edge than other types. One game which is big in the US which is not so common elsewhere is Craps. This dice game can become a very social experience when things are going well – as well as potentially profitable.
Online Casinos in the US
A 2006 law, known as the 'UIGEA', made many of the financial transactions between US banks and online gambling websites illegal. This forced the international regulated casinos to leave the country. US players can still enjoy online casino games, though this necessitates playing at offshore sites. These sites are based on Caribbean islands and welcome US players under international free trade laws.
You will find many reputable brands and some great casino software offshore, though it is worth doing some research first to make sure you do not end up with a rogue site. Depositing is possible at these offshore casinos via your credit cards, using international purchase capability. If your cards do get declined then you can always buy a pre-paid Visa card or a money transfer service such as Western Union.
US Casinos – The New State Regulated Online Gambling Sites
Individual States have now started regulating online casinos and poker rooms within their State borders. These are often licensed in conjunction with brick and mortar establishments and can legally provide casino games and poker inside these States. So far Nevada, Delaware and New Jersey have all regulated poker, with New Jersey also allowing casino games. It is hoped that in future, these States will form groups allowing gamblers to choose from casinos in any State. This has happened already with the Nevada and Delaware poker rooms. At the time of writing these sites are still in their infancy, and it remains to be seen whether this will be a success.