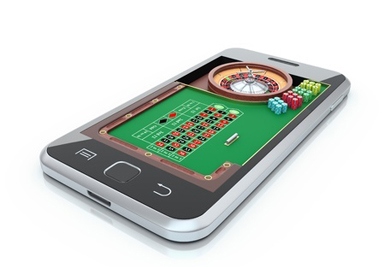 Guide to Playing at Online Casinos on your Mobile
It will not be long before the vast majority of time on the internet will come via smartphones and tablets. Casinos have already realized this, and are doing a great job of making their games available on these devices. While many players assume that apps are the obvious outlet for this, most casinos have chosen to go in a different direction. Each month sees more games on mobile responsive websites – these in-browser games detect the size of your screen and adapt accordingly.
This guide takes you through the technology and the games which you will find at Mobile Online Casinos. First of all, you will find background information on how these games work, including the technology they are based on. After that I have covered apps, and looked at the pros and cons of these compared to the responsive games. Finally, you'll find information on the best and worst games for mobile casinos.
Mobile Online Casinos Technology
Going back just 5 years, you really needed a full download to your Windows or Mac computer to enjoy casino games effectively. There were browser games, though the technology at the time (Flash) and the network reliability was not up to the job. This led to frustrating crashes and lags, giving these in-browser games a bad reputation.
What has happed recently has turned this situation around. Flash has improved, and has been joined by HTML5 – another form of code which allows in-browser play. Networks and computer devices have also improved significantly. Nowadays, in-browser games are as good as the download version or sometimes better. What is more, you do not need to clutter up your computer with a download in order to play them.
Mobile casinos have taken this in-browser technology and made it suitable for touch-screen devices. Tablets and phones should be looked at separately here, since the screen size also makes a big difference. Some casinos have redesigned their game interfaces, making the buttons clearer and the screens more simple. This works great on smaller screened devices. You'll find others have simply taken what they have and made it smaller, which does not always give the best experience.
Fortunately, most casinos will let you try out their games in your browser for free. If you check them using your mobile device, then you will be able to find out how playable they are before you commit to playing for real money.
Apple users will find compatibility problems with Flash mobile casinos. The latest Macs, iPhones and iPads do not support this technology. This was a deliberate strategy employed by Steve Jobs before he died. You can get around this by installing a 3rd party browser plug-in, there are several of these available online. Many casinos have adapted their own Flash games using Java or HTML to make them work seamlessly on Apple devices.
Mobile Casino Apps
Most casinos have really gone with the in-browser mobile technology, optimizing this and porting the majority of their games into this format. You will find apps, which use the native code for Android or Apple devices available too.
The problem with these is that very few casinos offer very many games in these apps. For example the majority of both PlayTech and MicroGaming casinos that do offer Apps have only 20 or 30 games in this format. You can also get separate Apps for live dealer casinos and occasionally Apps which focus on a single slot.
There are a few casinos which have made the effort themselves to fill their Apps with games. Even in this instance it is extremely rare to find more than 100 games of a total of 400 which are available via the no-download mobile responsive games.
For me, the only people who have a real incentive to download Apps are iPhone users from outside of the US who are content to play only the most popular lots and apps from the leading software providers.
Mobile Online Casinos Best Games to Play
When it comes to mobile casinos, you can enjoy just about any game found at an online casino. Some games do work a lot better than others though. Slots are the very best games. It almost feels like landscape mode on your smartphone and slots were just created to be together. Note that when you play these games, you may have to wait for the bonus round to download separately. Many slots save these, since if you only play for a short time you might never have triggered them.
Table games can work well in mobile casinos, though these are more dependent on how much time and effort the casino operator has put into transferring them. If you are a fan of games on the green felt, then I strongly recommend you try the games out for play money before you deposit. You might find it takes a couple of different attempts at different casinos before you find the right game for you.