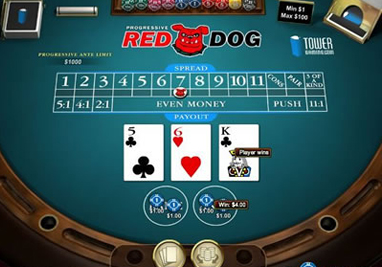 How to Play Red Dog Poker
Red Dog Poker is a simple casino card game, with just a single decision. This game is related to games known as Acey-Deucey or simply in-between. There are some reasonable payouts, though not the interactivity of other casino card games. This might explain why this is less popular in casinos than it used to be. You can also find this game online.
This page takes you through a hand of Red Dog, explaining the rules and decision-point along the way. You will often find a 'bonus' bet with this game, which is a side bet completely separate from the main game. This is covered below the main rules, along with some other casino card games that you might like to try.
Red Dog Rules
This is a very simple game, with the player involvement minimal. The first action from the player is to place their Ante bet. There may be an optional bonus bet which is separate from the main game.
Once the ante is placed the dealer will deal two cards. If they are the same, then a 3rd card is dealt right away – if this one also matches then the player is paid out at 11-to-1 on the ante bet and the hand is over. If the two cards are consecutive in rank (for example an eight and a nine), then the hand is over and the player's bet is returned.
The interesting part of this game occurs when the cards dealt are one or more ranks apart. The dealer will announce how big this gap is, and offer the player a chance to increase their bet.
Correct strategy is very simple, if the gap is 7 or more, then you should double your ante bet. If the gap is 6 or lower, then you just stay with your initial bet and let the hand play out. After this decision is completed, the dealer deals the 3rd card. If this is between the two other cards, then the player is paid depending on how many ranks were in-between the original 2. If the card matches or is outside of the first 2, then the hand is over and the player loses their bet(s).
Here is the pay table according to the gaps between the initial cards:
Spread is 1 card – Pays at 5-to-1
Spread is 2 cards – Pays at 4-to-1
Spread is 3 cards – Pays at 2-to-1
Spread is 4+ cards – Pays at 1-to-1
Red Dog Bonus Bet Side Game
The bonus bet in Red Dog has nothing to do with in-betweens or the 3rd card at all, this is simply a bet on those first 2 cards. Like all casino game side bets, the house edge is bigger than in the main game. What this does give you is a little in the way of extra interest and potential for a short-term windfall.
It works very simply, you just place an additional bet and get paid for the following outcomes:
Two Aces – Pays at 30-to-1
Ace-King Suited – Pays at 25-to-1
Ace-Queen or Ace-Jack Suited – Pays at 20-to-1
Ace-King Different Suits – Pays at 15-to-1
Pair of Kings, Queens, Jacks – Pays at 10-to-1
Ace-Queen / Ace-Jack Different Suits – Pays at 5-to-1
Pairs 22+ - Pays at 3-to-1
Other Card Games You Can Enjoy In Live Casinos
There are a lot of poker games which are far more interesting than Red Dog available nowadays. Here is a selection of some of the more popular games you might like to try out for yourself.
Let It Ride: This game is unique in that you bet 3 units at the start of the hand, and get to take 2 of them back if your hand does not shape up well. If you get a great hand, you can keep all 3 units in play for a very big pay day.
Pai Gow Poker: This game seems complicated, though is simple once you get the hang of it. Each player gets dealt 7 cards, and divides these up into 2 different poker hands. One of these has 2 cards and the other has 5. The idea of this game is to beat the dealer's hand for both. There is also a side bet which can give you a huge payout for hitting a natural 7 card straight flush.
Ultimate Texas Holdem Poker: This game was created due to the huge popularity of Texas Holdem poker around the world. This is a casino game, where each player individually plays against the dealer. You get to place a bet of up to 4 times your ante if you find yourself in a favorable position. If you do not like your hand, then you can wait until the river to make your decision instead.