US-Friendly Casino that Offers a Website in Several Languages
100% Match on your First Deposit up to $1000 Max
Highly Regarded Real Time Gaming Software
Deposit & Cash Out Options: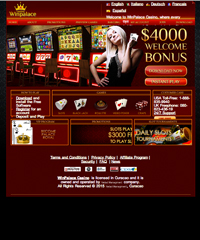 Pros:
Extra bonuses every single week
Reliable and playable games
Jackpots are linked between all casinos running RTG software
Cons:
Graphics are good, though not cutting edge
From Our Players:
"A truly unique and fun place to play"
"Fast cash-outs and reliable 24/7 customer service"
A Complete Review of the Win Palace Casino
Win Palace is a US-friendly casino which also offers their website in several languages – a rare combination nowadays. This casino run the highly regarded Real Time Gaming Software, and are licensed out of the Netherlands Antilles in the Caribbean. The big feature at this operator is the constant bonuses. There is a nice variety of welcome bonus offer, and  on top of this you'll get a list of extra bonuses every single week. There is no need to play a game here without enjoying some kind of deal or special offer.
This page is a detailed overview of the Win Palace Casino. The first section below focuses on the different casino games you will find here – starting with table games and then moving on to slots. After that the bonuses are featured, with the main choices of welcome bonus, plus the weekly offers explained. At the end of this page you will find the Win Palace deposit options, with a focus on US players.
Solid Choice of Casino Games at the Win Palace Casino
If there is one thing that Real Time Gaming are good at it is creating solid casino games which are simple to play and very entertaining. The graphics are good, though not cutting edge, you will not find the most advanced features here either. For me this focus on creating reliable and playable games is what made this software provider such a big success, both for US casinos and around the world.
The table games offered by RTG are the best examples of this. You get just a few choices (more on the Windows download than in the browser based versions), and the Blackjack, Roulette and Baccarat you find here are very high quality games. You get some variations, though not the huge choice of 10+ of each game that software providers like MicroGaming offer. All the games are covered, you can find Baccarat, Craps, 3-Card Poker and Pai-Gow here, among other titles. If you can play it on the green felt in a live casino, the chances are you'll be able to enjoy it at Win Palace too.
Slots are a specialist area for Real Time Gaming. The games are very distinctive. When you have played a couple of sessions on RTG slots, you'll get to know the frames, movement of the reels and how the wins are highlighted. This will enable you to identify a slot as being from this software house instantly. This cannot be said of many of the other major software houses.
The top of the Win Palace slots range are the 'Real Series' slots. These are the latest video slot games. Individually they have multiple win-lines and their own features. The interesting feature about this range is the linked progressive jackpot payouts. These jackpots are linked between all casinos running RTG software, which means that they accumulate fast. What is truly unique is that the jackpot drops at random. You can be playing a slot, miss completely on the reels, and still find yourself receiving a huge prize.
There are other slots with smaller random jackpots too, these are not considered to be a part of the real series – though do include a lot of entertaining video slot titles.
Video poker is the other major category of games. Once again Real Time Gaming have done a great job in creating solid, playable and entertaining games in this category – though without flashy graphics or interactive rounds.
Big Choice of Bonuses at the Win Palace Casino
With so many welcome bonuses to choose from, I have explained how the general bonus works first, and then listed the other below that.
The main welcome offer is a 100% match on your first deposit up to $1000 max. The minimum deposit at this casino is $21. This requires a play-through of 30x the combined deposit and bonus amount, effectively making the bonus a 60x offer. There are a lot of excluded games, and many other games which count only at 25% of this wager-through requirement. Make sure that you check the terms and conditions before you start playing.
The other welcome bonuses are aimed at different games. These include a $3000 slots bonus, a high-roller bonus, one for Blackjack and also one for Video Poker. These bonuses do come with special bonus codes to clear them – all of these are available on the Win Palace website.
After you complete your welcome bonus, you'll get weekly offers. There are currently 7 slots bonuses and 6 table games bonuses on offer every week. These range from $21 up to $2000 in value – enough to keep all player's bankrolls topped up.
How to Deposit at Win Palace
International players have no restrictions and can deposit with their cards, e-wallets and a huge variety of local and regional options. If you are from the US there are 3 main options available to you. These are credit card (for international purchases) including Visa or MasterCard. There is always the option to buy a pre-paid Visa if your main cards get rejected. The other very reliable option is to use a money transfer service such as Western Union.