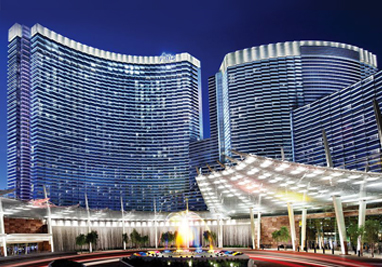 Overview of the Aria Hotel in Las Vegas
In the heart of the Las Vegas strip, you can't miss the five-diamond award-winning Aria Hotel and Casino resort which stands out being the tallest building in the 'City Center' complex. Known as one of the most technologically advanced hotels in the world, Aria is most famous for its unique and sophisticated Casino data center which adapts play to whatever attractions the guests enjoy most.
Situated within just a 10 minute drive from McCarran International Airport, the entire five-star hotel complex houses an impressive Casino gaming floor, restaurants, bars and nightclubs, a plush pool area with cabanas, spa and a 1,800 seat theater  - currently showcasing Zarkana by Cirque Du Soleil.
Aria houses an amazing 4,004 hotel rooms, 568 of those are suites and a portion of these are the high-end Sky Suites, a Forbes five-star hotel. The Sky Suites are listed as a separate entity due to guests entering via their very own entrance and elevator.
Aria also forms part of the MGM Resorts International Group who own a whole host of Las Vegas hotels and Casinos enabling guests to use their M life gaming points in not only the Aria complex but also in other MGM resorts; the MGM Grand, The Bellagio and Mandalay.
Aria Overview and History
The Aria complex was erected on the site of the former Boardwalk Hotel and Casino which was demolished in 2006 to make way for the resort and its two accompanying towers, one 61-stories high and the other 51. In 2007, to help move the project along, Infinity World Development, part of Dubai World, acquired a 50-percent stake in the City Center project to become joint owners of the Aria resort. The Hotel and Casino eventually opened to the public in December 2009, along with a number of other venues within the City Center complex, including The Crystals shopping mall.
Among the most unique aspects of Aria is its state-of-the-art technology system which enables a reduction of energy consumption to both the interior and exterior of the hotel. Aria has been described as 'the most technologically advanced hotel ever built.
The Aria Casino
The Aria Casino is the only one to be situated within the City Center complex. The gaming center includes slots, table games, Poker and a sophisticated Race and Sports book. The machines are all controlled by a complex electronics data system which determines what games are the most played and desired by guests.
There are a huge 150,000 square feet of gaming in the casino, making it large compared with others on the Strip. The focus on technology is apparent when you see the range of modern slots, which include all the latest interactive titles – including the multi-player games. Traditional and video slots are also well represented of course.
The slot floor at Aria is forever changing but always includes an array of fun and exciting games which have high-payouts. Their newest games include Aladdin & the Magic Quest, Michael Jackson - King of Pop and Red Hot 7s. When the stakes aren't quite high enough with these slots then one can always make their way over to the Spin High limit room where what you gamble is nothing compared to what people have walked away with in the past.
There are also a multitude of table games at the Aria Casino. There's the complete spread of traditional table games like Blackjack, Craps, Baccarat, Roulette and Casino Poker but there are also a whole host of other games to keep you entertained.
For Poker fans, there is a 24-table card room with two tournaments a day, one at 1pm and the other at 7pm. There's a $100 plus $25 buy-in with an optional $100 plus $25 re-entry and players must start with $10,000 in tournament chips.  A huge WPT500 event was recently held here, timed to complete with the World Series of Poker.
Aria also houses an intimate Race and Sports Book. There are 90 high-definition screens, including two 220 inch sized televisions, for guests to enjoy their favorite sporting event.
Aria prides itself on providing guests with a luxurious lounge room complete with comfortable couches and chairs. Other amenities include full drink and food service as well as a VIP section.
24 IPT Betting Stations, the most on the Las Vegas Strip, allow horse and dog racing fans to place bets without leaving their seats. There are an additional two self-bet kiosks available for all sports.
Once all the play is done, MGM Resorts International has an exclusive M life rewards program which allows guests to earn benefits for each dollar they spend at their Casinos. Aria is part of this reward scheme, where frequent gamers can take full advantage of their reward points. Guests can use these rewards against room discounts, dinning, spa experiences, entertainment and more.