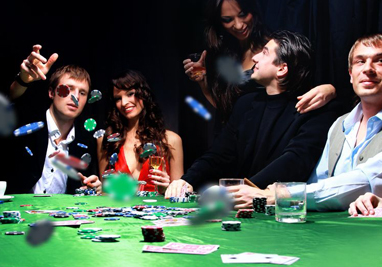 High Roller Guide to Vegas High Limit Rooms
It you are a high roller, then playing out in the melee of the main casino is no longer necessary at many of the leading venues. They have put in place high limit rooms, where you can play with the best dealers, best surroundings and the best benefits too. While the exact limits of these rooms vary, the idea is that they offer something a little more exclusive and classy to the big spending players.
This article gives you an overview of what to expect from Vegas High Limit Rooms. First of all I will explain a little more on how these rooms work and how to gain entry to one of them. After that, the different types of high limit rooms are covered. For example high limit slots areas and specialist rooms with games that appeal to Asian players too. After that you'll find information on how your casino host should be able to assist you as a high rolling player.
What to Expect From Vegas High Limit Rooms
Table games at high limit rooms will have betting starting at the $50 to $100 level. This will depend on the casino and the game. These areas are not usually closed to from the main casino area, though they are usually kept separate – for example through an archway into a separate area. If your betting goes into the $1000+ per hand or spin range, then these are not the right rooms for you. In this case you should be seeking out a host at your casino who will find you a private room for the real VIP treatment.
That is not to say that players at the high limit tables do not get excellent treatment. You'll have a more spacious and quieter place to play away from the noise of the main casino. You will  have the best dealers made available to you and you may (at your discretion) sit with other high-rollers instead of drunk tourists. The service will be of a far better quality too. No waiting around for drinks will be required, you'll have fast and friendly waiting staff on call instead.
Naturally, the game selection will be more limited in the high limit rooms. You can expect to find Blackjack, Baccarat and Roulette with Pai-Gow a popular choice. Other games can be made available, though not always immediately. If you are a $1000+ a hand high-roller, you can certainly expect your favorite Blackjack variation to be set up very quickly indeed, if you are $100 per hand, you'll probably need to wait.
You can usually bet the same amounts out in the general casino, assuming you do not go over the table limits. This is entirely your choice, many people enjoy the action of a lively table and environment and are prepared to give up the extra service to ensure that they get it.
Different Types of High Limit Rooms
In addition to the standard table games high limit room, you will often find separate slots rooms labelled as high limit. Here you'll be spinning a minimum of $5 per spin. This might not sound like high limit, however if you imagine 100 spins per hour, then you will be quickly turning over a lot of money. The advantage is that the jackpot and regular payouts will be proportionally as large. It is not usually possible to have one of each variety of slot from the main floor in these rooms – however most casinos ensure that they have a good cross section to cater for many different tastes.
Another high-limit room variety is aimed at Asian preferences. An example is the Lotus Room at the Mandalay Bay. This includes Blackjack, Pai Gow and Tile Pai Gow – all of which are popular among this demographic. The betting limits in these kinds of rooms can be very high.
High Limit Rooms in Las Vegas – The Host
One thing that playing in a high limit room in Vegas is bound to do, and that is to catch the attention of the casino host. This individual is responsible for keeping players happy in the casino, and building relationships with regular players. You can get comps and assistance from your casino host, and they are usually very happy to help with the bigger spending players.
What you should not expect is a full range of comps just for stepping into a high roller room. There is a process to go through to demonstrate that you really are a serious gambler, who is serious about giving their custom to a particular casino. The kind of things that a host can give away include show tickets, dinners and upgrades to your accommodation. If you are a regular High limit room patron, then you might well find yourself getting free accommodation later down the line.