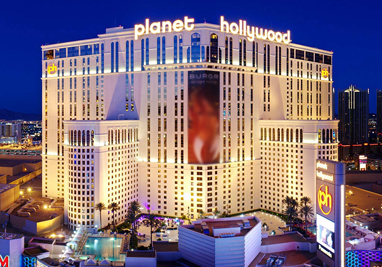 Overview of the Planet Hollywood Hotel and Casino
In the heart of the Vegas strip, you will find Planet Hollywood Resort and Casino located between the famous Tropicana and Flamingo Avenues. This Hollywood themed resort is probably one of the most famous in Las Vegas thanks to its music collaboration with Britney Spears.  
There are 2,600 rooms inside the hotel with many different options to choose from depending upon budget. Guests are spoilt for choice with the 37 floors of luxurious rooms and suites, each one dedicated to a Hollywood movie with a one-of-a-kind movie memorabilia set. Planet Hollywood insists guests are treated like celebrity A-list stars and if the luxurious, modern and lavish rooms are anything to go by then that's certainly the case. 
There are a large number of restaurants, bars and lounges offering a selection of foods from around the globe. If you are looking for a delicious Mexican meal then Yolo's is the place to visit. At Strip House you can order an upscale steak meal with quirky side dishes, such as truffle creamed spinach and a 24 layer chocolate cake. You can taste a variety of delicacies from around the world when you visit Spice Market Buffet and finding a healthy Japanese sushi meal is possible at Koi. Of course, what Planet Hollywood is really famous for are their burgers, this is one of a long list of 'must-do' experiences for many tourists here.
Planet Hollywood Overview and History 
Now owed by Caesars Entertainment Corp, the hotel was originally opened in 1963 as the Tally-Ho. The following year, it was renamed the King's Crown but closed six months later when it was denied a gaming license. 
In 1966, the hotel was purchased by Milton Prell and was given a $3 million renovation to turn it into an Arabian Nights theme, named The Aladdin. The Casino resort had a number of owners and relative successes through the years until it went into liquidation in 1997. The following year the entire hotel complex, excluding the Aladdin Theater, was blown to the ground to make way for the New Aladdin resort. 
The New Aladdin was due to open in August 2000 but the opening was delayed due to fire testing and repairs to the surveillance system. Mounting money troubles led to the sale of the property to Planet Hollywood in 2003. Caesars Entertainment officially purchased the property in 2010 and now runs the hotel as it is today – along with their many other Vegas properties.
The Casino at Planet Hollywood
Once you reach the Casino, there will be 100,000 square feet of gambling space waiting for you to get stuck into the action. With more than 1,200 slot machines, Planet Hollywood makes it easy and fun for guests to play. The floor includes a whole host of favorites from Penny video slots to high-limit reels and everything in between. The slots include single and multi-line video poker as well as progressive slots like Wheel of Fortune, Megabucks, Monopoly and many more. 
At Planet Hollywood's high-energy casino, you'll have an A-list, movie star experience. From go-go dancers and flashing lights to upbeat music, making you feel like a million dollars. Once you feel the moment you'll be more inclined to go for the big bucks at popular table games like Vegas Blackjack, Roulette, Craps or Poker. What makes this Casino even more unique is the dealers dress in sexy lingerie while they hand over your winnings – an experience not to be missed, though you'll pay with higher minimum betting limits at these tables.
The Planet Hollywood Poker room is located on the casino floor and is open 24 hours-a-day. Famous for some of the best live game and tournament action on the Las Vegas strip, they host the 'Phamous Poker Series' and World Series of Poker Circuit events – in addition to their own weekly schedule.
Visiting the Playing Field at Planet Hollywood Casino is the prefect area to place bets on your favorite sporting events. This high-tech hangout boats 33 plasma TVs and a VIP race area making it the perfect Race and Sports book. In addition to lines on pro sports and extensive horse and greyhound racing coverage, you can lay bets on many international sports leagues here.
In-House Entertainment and Shows at Planet Hollywood
Entertainment at Planet Hollywood is arguably the best in Las Vegas. Currently showcasing Britney Spears' show, 'Britney: Piece of Me', the concert is one of the biggest crowd pullers to date in Nevada. Located inside The Axis, the 7,000-seat theater provides an entertaining concert experience.
There are plenty more options for those with more refined tastes, including comedy, theatre, Burlesque and the stars of America's got Talent too. You'll find a large selection of restaurants ranging from casual dining right through to some world class venues here.