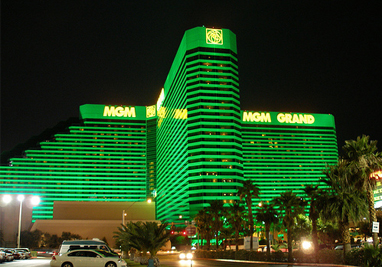 Overview of the MGM Grand Hotel and Casino in Las Vegas
The MGM Grand is without doubt the most famous hotel and casino complex in Las Vegas. Even if you haven't been to Las Vegas you would have heard of the MGM Grand. It's the largest hotel in the United States, the second largest resort complex in the world, with one of the planet's most famous Casinos.
There are an amazing 6,852 rooms at the MGM Grand, a number of shops, night clubs, restaurants, spas and most importantly the Casino. The hotel is located on the site of the famous Tropicana but what's great for gambling fans is that the resort links to neighboring Casinos via overhead pedestrian walkways which provide easy access to all the top gambling action in town.
Owned by MGM Resorts international, the hotel is renowned for its complex which houses five outdoor swimming pools, rivers and waterfalls which all cover an area of 6.6 acres. However, what the MGM Grand is most famous for housing is the largest Casino in Vegas with nearly 16,000m2 of floor space.
MGM Grand - Overview and History
The MGM Grand opened to great fanfare in December 1993 with a Wizard of Oz theme. The Casino was also very much based around this theme and when players entered the venue they would find themselves in the center of Oz Casino. However, when the hotel complex went through an extensive refurbishment in 1996, the Oz Casino was the first thing to go and the hotel chain focused very much on providing guests with one of the most user-friendly and extensive gambling floors in the world.
The MGM Grand gaming floor is one of the largest in the world and extremely well respected in Vegas. There are nearly 3,900 slot machines as well as a whole host of poker and table games.
There are an array of slot machines, from the traditional classic slots to the progressive slots, video poker and multi-game machines. There are also high stake areas and feature slot machines with payouts of $500,000 plus. There's also the Lion's Share slot machine which is the only one in the Casino to not yet payout it's jackpot - currently standing at nearly $2,500,000.
There is also a state-of-the-art race and sports book area which features thirty-six 60-inch plasma televisions, along with further twenty-four 52-inch screens to enable guests to place bets on their favorite sporting events from around the world. This area also houses a number of 'skyboxes' which enable guests to party together while making their bets.
There is a wide selection of entertainment on offer at the MGM Grand. In 2014, there are performances from Justin Timberlake, Lady Gaga, Ka by Cirque Du Soleil and much more. Plus, there are regular magic shows from world famous magician David Copperfield who has been resident for more than a decade.
The Casino at the MGM Grand
The Casino hall has a number of table games on offer from Blackjack, Craps, Baccarat, Roulette, Casino War and a whole host of different Poker games.
There are thousands of slot machines ranging from the standard rolling games to unique bespoke slots like Majestic Lions or Lion's Share. There are also a number of slot showcases which include Batman Classic TV Series, Sphinx 3D, Blade Stepper series and their showpiece The Magic of David Copperfield.
The MGM Grand also has its very own private Poker Room which has a number of amenities, from free poker lessons for newcomers, table-side food and beverage service to non-smoking rooms and most importantly for gambling fans the hotel keeps the tables open 24 hours-a-day.
For the more discerning Poker player, there are daily tournaments which allow you to focus on developing your skills at the table while enjoying the thrill of competing. There are a vast array of games which offer $1-$2 limit and $2-$4 no limit games, plus $4-$8 limit to $8-$10 no limit Texas Holdem games. There are also $500 buy-in No limit cash games for the High-stakes player.
The atmosphere at the MGM Grand Poker Room is quite relaxed considering it attracts a wide selection of mid-range Poker players to the table. However, these players still manage to make the atmosphere exciting with crowds often gathering to watch the action. As the play is relatively mid-range here, it doesn't tend to attract the big players which is not necessarily a bad thing because that leaves all the more chances for you at the tables.
MGM Resorts International has a special M life rewards program which allows gamblers to earn benefits for each dollar they spend at their Casinos. The MGM Grand is the matriarch of this M life scheme and frequent gamers can take full advantage of their reward points here. Guests can use these rewards against room discounts, dinning, spa experiences, entertainment and much more.