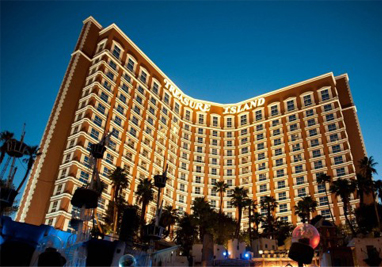 Overview of the Treasure Island Hotel in Las Vegas
Treasure Island originally started live as an idea for a tower to extend the popular Mirage, which is next door. The idea was changed into a development of a new resort by Steve Wynn, and in 1993, the pirate-themed and family friendly casino hotel opened its doors. Nowadays, the focus is on adults, and the pirate idea has been replaced with the far more neutral 'TI' logo. This casino was more recently bought from MGM by property investor Phil Ruffin.
This page gives you a detailed overview of the TI resort and casino. First of all more detail on the history and notable features of this quality casino resort are covered. Next you will find details of the huge casino floor at Treasure Island. At the end of this page I have focused more on the entertainment, including the shows and restaurants.
Treasure Island Hotel Casino – Features and Overview
This hotel is located between the MGM Mirage and the Fashion Show Mall in the northern portion of the main Las Vegas Strip. Opposite, you can quickly reach the Venetian and Wynn Hotels. When first built this was a large size project, though it has since been surpassed by even more lavish resorts. There are a total of 2884 rooms in this hotel, including suites.
When Treasure Island first opened in 1993, the focus was very much on family entertainment. There were pools and activities aimed at children, as well as the gambling and adult venues such as restaurants and bars. Over the years, TI have moved away from this focus, becoming gradually more adult focused. The color of the casino has also changed, going from orange to maroon.
This casino used to be famed for its pirate shows, which would take place every night on a giant ship adjacent to the strip. These shown have now come to an end, with their eventual demised getting blamed on the construction work for new retail premises in another  part of the casino.
What you will find here are plenty of bars and restaurants, these are not the high-end destinations what you might find I the likes of the Wynn or Caesars Palace, instead appealing to regular diners who would like some value with their Vegas Experience. Room rates at this casino are decidedly better value than at many other resorts. With a walkway right to the entrance of the Fashion show mall, you can spend those extra dollars that you wave on shopping instead.
The last major renovation of Treasure Island was in 2010, which is recent by the standard of Las Vegas casinos.
The Casino at Treasure Island
Like most of the casinos in Las Vegas Hotels, this is a big floor space – totaling some 95,000 square feet in total. When passing through you'll be routed around huge banks of slot machines here. These include slot titles from just about every generation of games. There are a lot of the traditional 3-reel and early 5-reel video slot games, which should certainly appeal to the slots purists out there. You will also find a lot of modern games, with their interactive feature rounds and progressive jackpots.
Table games here have minimum bets at the lower end of the range for casinos, with $5 being the standard entry level wager for the common table games. Blackjack is the most popular, with several variations and side-bets available. Roulette and the various different casino poker games can also be found here, including the ever popular 3-card poker. There are higher limit games in their dedicated room, and fun games based on keno and bingo too.
There is a poker room here, which even pays regular players hourly comps for certain totals of play. There is a daily tournament schedule. You will find one of the lowest buy-in poker games anywhere here, with the $1 / $1 game in No-Limit format having a $50 minimum buy-in. There is also a $3 / $6 Limit game with a $60 minimum buy-in running.
The TI sportsbook runs from early in the morning until midnight, and features multiple HD TVs so that bettors can follow their preferred action, as well as big-screens. There are betting opportunities on a huge range of sports, and even complimentary cocktails if you bet enough money.
Entertainment at Treasure Island
The regular show at the moment is Mystere By Cirque de Soleil, this is one of many Cirque de Soleil Shows which run at different venues up and down the Strip. There are other regular headline acts which stay for short periods of a week to a month, you should check the website for the latest performances.
Some of the notable restaurants and party venues to check out include Senor Frog's, Gilleys Tavern and the Kahunaville Party Bar.