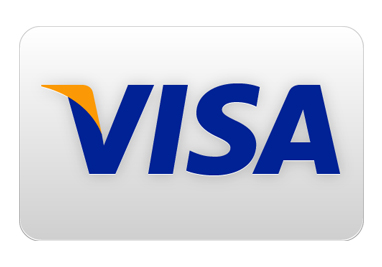 How to Deposit at Offshore Casinos with your Visa Card
Playing at online casino sites for real money is completely legal under Federal laws. Using your Visa card to make deposits is the subject of some legal restrictions –though these only apply to the banks and not to individuals. Fortunately, the offshore casino operators can get around these restrictions very easily nowadays – by using international credit card purchase transaction codes. This guide will show you how Visa Card casino deposits work.
This guide is divided into several distinct sections. First of all you will find an overview of the casinos available to US players, and making Visa Card deposits at them. After that there is some more detail, with a stage-by-stage overview for getting your money on board. At the end of this page you'll find some information on how to compare the bonus offers to different offshore casinos, to ensure that you get the best possible deal.
Overview of Visa Card Casino Deposits
Visa cards are the most commonly accepted payment option for casinos around the world. Since non-US players have no restrictions on this kind of deposit, this guide focuses on US players depositing at casinos operating from offshore.
Most of these casinos are located out in the Caribbean, where they are licensed and regulated by jurisdictions including Antigua, Netherlands Antilles or Panama. These casinos claim that they have a right to accept players from the US under international free trade agreements. There have even been actions brought against the US by Antigua to assert this right.
From the perspective of the US, banking transactions to online casinos are illegal under the 2006 'UIGEA', and are blocked as a default by US banks. The casinos get around this by marking deposits as international transactions. This works a proportion of the time, though you will find your bank does decline transactions on occasion.
If your main Visa card does not work, then you have the options of buying a pre-paid Visa card instead. You'll need to find a brand which works for international transactions. If you are not sure then your casino should be able to help you with advice on this. You can pick these up from gas stations and convenience stores country-wide.
If your deposit does get declined by your bank, then there are still some great options available to help you get your money on board. In addition to the pre-paid route, you can use a money transfer service such as Western Union's 'Rapid Transfer' or MoneyGram to get your money on board.
The Process for Making a Visa Card Casino Deposit
Each casino will have their own process for making your deposit, though they will share many commonalities as outlined below. This assumes that you have checked beforehand that you are depositing at a legitimate casino – and have read my guide below on how to compare their bonus offers too.
The first step is to set up a player account at your casino. This is what you will be depositing into. You can register via the full software download, or you can choose to do this online. You will usually need to verify your e-mail address. I recommend you double check that all of your personal data is accurate, as back-up may be required when it is time to withdraw your winnings.
Next you need to navigate to the cashier section. In all my years in the business I have never come across a casino that makes this difficult to find. Once there you are looking for the deposits or payments section and will need to click on the Visa logo.
The next stage is to insert all of your card details. This will include the expiration date, long number on the front, security number on the rear and your name exactly as it is printed on the card.
That's the entire process - you now insert the amount you wish to deposit and press the 'Submit' button. You will know within 10 seconds whether your transaction has been accepted or declined. If your money does not do through, then it is time to look at some alternative options.
Before You Deposit With Visa, Check the Bonus Terms
All casinos will offer you an enticing bonus, what you will find is that these vary massively as soon as you look under the surface of the deal. The single most significant factor you need to check is the play-through (also called wager-through) of your bonus. This is the amount of times you need to turn over your bonus before any profits from this are yours to withdraw. You'll find a huge variance, with the best casinos at 20 to 25x play-though, and the worst at 50 or even more.
I also recommend that you check out the ongoing bonuses and promotions at your casino. It is always good to know that your casino looks after their long-term and loyal players well before you go ahead and make that Visa deposit.