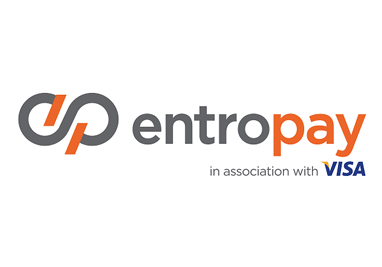 How to Deposit at Online Casinos with EntroPay
This is a simple, and very effective way of separating your bank account from your online casino payments. EntroPay is a 'Virtual Visa'. You can load this card up with money from your regular bank account, and then spend it in exactly the same way you would use a regular Visa card any online merchant that accepts Visa – including online casinos. This service is unfortunately not available for US casino players at this time.
This article gives you a complete overview of how to use EntroPay to make your casino deposits. First of all, I have outlined how this system works, and the pros and cons of using it compared to other casino deposit methods. After that you will find the practical steps of making your EntroPay casino deposit – stage-by-stage. Finally, before you go ahead and deposit, I recommend you spend a few minutes comparing bonus offers properly, since there are often catches hidden in the terms and conditions.
Overview of EntroPay Casino Deposits
This is the simplest way I have come across to limit the amount of merchants or casinos that hold your private banking information. By setting up a virtual Visa account, you'll be depositing in exactly the same way you would with your own card – only your risk will be limited to whatever amount you uploaded onto the EntroPay card.
The process is exactly the same, you virtual card will mimic the Visa process right down to the CCV number (also virtual). You will need to set up your account first, and you'll need to fund this using your existing credit or debit card. There is a fee for this which is set at 4.65% of the amount you upload. This seems high, however it is a one-off fee for the upload. You will not have to pay any additional fees for transactions using your Visa. This compares well to the electronic wallet services which charge a separate fee each time you use the.
You can also return money to your bank account with EntroPay, this is subject to a £3 or $6 fee, depending on the currency used. You can also hold your balance in Euros, and transfer money between these currencies online. Finally, EntroPay also has the option of applying for a plastic card. This can be used to withdraw your money from ATMs, as well as a general credit card.
Security is the main benefit of using this virtual Visa solution. For many players, the fact that you do not need to give your bank account details (or card details) to several casinos is worth the fees on its own. You should also keep in mind that this using this payment option prevents any gambling transactions appearing on your bank statement.
Another benefit is that you can hold a separate 'casino bankroll' on your card. This can then be used to take advantage of short-term offers and promotions when you find these at different casinos.
Compared to electronic wallets, you'll be able to use this card at a lot more merchants – anywhere that accepts Visa will also accept EntroPay.
How to Deposit With EntroPay – Stage-by-Stage
There are two parts to making your deposit with EntroPay. First of all, you'll need to get your Virtual Visa account set up, and then you'll need to register at a casino and make the deposit using it. Keep in mind that different casinos will go through the process slightly differently. What you will find below is a generic outline of the main steps required.
Setting up your EntroPay account is easy. There is a big purple sign-up now button on the right hand side of the web page, which will take you to the registration process. Only your basic information is required to start with, and you should have your virtual card within 5 minutes. Once your card is set up, you'll need to fund it. This can be done using your credit or debit card – you'll be making an online purchase onto your card. As soon as this is completed you will be ready to go on to the next stage, which is using this virtual card to deposit at your casino.
First you'll need to register a player account. This will be a quick process, and will often involve an e-mail verification step. Remember to use correct personal information, as most casinos will request backup documentation when you withdraw your winnings.
After that you navigate to the cashier area, choose 'Deposits' and then 'Visa'. You will fill in your card information exactly like this was a real Visa card. Your name, the expiration date, long number and security (CCV) number will all be required. You enter the amount you wish to deposit, hit the submit button and you should be good to go. EntroPay will only allow you to deposit up to the amount which you have uploaded onto your card.