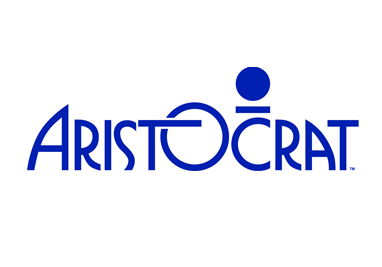 An Overview of the Slots Games by Aristocrat
Aristocrat is a giant in land-based slot design and distribution. On a global scale, they are second only to IGT in terms of their size and reach. You can also enjoy Aristocrat slots online, including via your mobile devices. This software developer is credited with inventing the 243 'all-ways' system. Instead of choosing winning lines, every combination of symbols from left to right on the slot is counted as a win-line. This sounds confusing, though is easy to follow once you have played for a few spins.
This page gives you a detailed overview of Aristocrat slots. First of all below, I have given a quick summary of the history and main features of this company. After that, you will find my picks of the 3 Aristocrat slots that you really should try out for yourself. Next the other slots in their range are covered, along with other game types. Finally, you will find some information on the mobile versions of these games and how to access them on different devices.
Aristocrat Slots – Brief History
This is a company with a rich history going all the way back to 1953, when they manufactured their first gaming machine. Based in Sydney, Australia, this company now employs more than 2000 people and has satellite offices around the world. Many of their games can be found on the floors of brick and mortar casinos around the world – and not just in their native Australia.
Aristocrat was listed on the Australian Stock Exchange in 1996 and has since expanded into offering online games. Rather than deal with players through their own casinos, this company uses a similar model to other online software giants. The games are licensed to the casinos, who then deal with marketing and finance for their players. Aristocrat games are not currently available at US friendly online casinos.
In addition to inventing the 243 'all-ways' games, this software company have been innovative in creating app versions of their games. The slot titles are available on both Apple and Android apps, as well as though responsive in-browser formats.
Aristocrat Slots – My Picks
There are a long list of slots to choose from with this software house, which always makes coming up with just 3 very difficult. While themes have evolved over the years, most of the current lineup is still the 5 reel, 30 win-line video slots with a variety of different themes and bonus rounds. You'll find some titles with big (linked) progressive jackpots too.
I'll have to go with the consensus of players and make the Queen of the Nile my top-pick, with the caveat that you should try both this game and the graphically updated Queen of the Nile 2. This is an Egyptian themed game which is deceptively entertaining, despite it being simple, there is a free spins round and wild / scatter symbols to keep you entertained and that is about it. The reason for choosing this one is that you get to feel like you are part of the history of one of the biggest slots software makers while enjoying the game. There is also a King or the Nile to play.
The international profile of this brand is apparent when you see how many Asian themed slots are in their range. There are titles including Geisha, Imperial House and Choy Sun Doa – though the one I liked the best is the 5 Dragons game.
If Jackpots (especially linked ones) are your thing, then try out the Cash Express Game too.
Aristocrat Slots – Other Slot Games
My picks above only scratch the surface of the wide range of slots and pokies available. There are some movie tie-ins among them, including the excellent 'Mummy' slots and a Superman themed one too. There are plenty of quirky entertaining games to play, for example Let's go Fishin'.
Many of the bonus rounds feature mini-games all of their own on Aristocrat slot machines - these will give you some significant wins on occasion.
Aristocrat is huge in the field of live slot machines and has been innovating in this space too. Some of their achievements include creating more energy efficient live slot games, and creating a setup which is deliberately configured to stop players getting tired while playing (after staring at the screen for hours and hours).
Mobile Compatibility of Aristocrat Slots
Casinos do not seem to go exclusively with Aristocrat slots. Instead they add these on to their lists as an extra for their players. These can be played easily on most mobile devices via the responsive Flash technology (with the exception of Apple devices, which need a plug-in first).
Aristocrat has been active in porting their titles over to native apps for both Android and iOS devices. It will depend on the individual casinos licensing these games whether this is currently available.