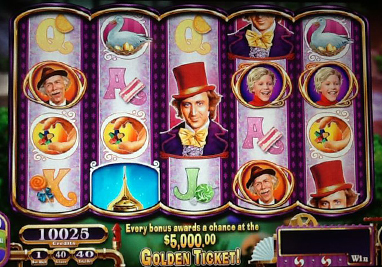 Review of the Willy Wonka Live Slot from WMS
The race to provide ever more entertaining live slot experiences has taken an interesting twist with the WMS Willy Wonka machine. In addition to 9 bonus rounds and immersive clips from the movie, this game contains a unique moving chair. This really comes into its own during the 'Chocolate River' bonus game round, where the chair mimics being in real boat. This slot is based on the musical 1971 movie and includes singing, clips and of course - Oompah Loompahs.
This page gives you a complete overview of the Willy Wonka Slot, which can be found in casinos in Vegas and around the country. First of all, I have described the setup of the slot and game-play. Next you will find information on some of the entertaining interactive bonus rounds – including how to win big. After that some discussion about whether you should choose this game from the 100's of titles available, before I look at some alternative movie tie-in slots at the end of the page.
Willy Wonka Slot – The Game Setup
The cabinet is tall for this game, with a distinctive purple color and dual screens. What makes it stand out is that a chair is fixed to the game. This is the motion chair that comes into its own during some of the bonus action.
This is a 5 reel video slot, and has 40 winning lines. There is a wide range of betting allowed, with the smallest 1c per line, making the total for each spin 40c. High limit slot rooms will offer this with stakes which should suit the biggest bankrolled slots fans.
There is plenty of action on the reels while you are waiting for one of the bonus rounds to hit. This slot is a very intensive interactive experience, with singing and dancing within the game, wilds (which get added by Oompah Loompas) and scatters, and plenty of smaller payouts for 3+ symbols on any of your winning lines.
Willy Wonka Slot – The Bonus Rounds
There are a total of 9 bonus rounds which are all based on ideas from the movie. One unique feature of this slot is that those times you have a jackpot feature and do not win a big prize increase your chances of getting the 'golden ticket'. This is a Wonka bar with a special ticket inside which is worth at least $5,000. This is not the biggest prize on this machine, this is the progressive jackpot. However, I am sure that most players would be more than happy to hit this 'small' windfall while playing.
When you trigger a bonus you'll fly up in a magic elevator, which then lands on one bonus feature or another. Many of the bonuses are pick-em type rounds, many with clips or twists within that concept. For example, you might get to choose a Gobstopper to reveal a prize, with some hits causing a lot of the available Gobstoppers to explode.
There is a free spins round which gets almost psychedelic. The reels grow upwards and some of the wild symbols expand to fill lots of lines and even multiple reels. This game can result in some big wins and is very entertaining in its own right. You could be forgiven for thinking that the machine had malfunctioned the first time you get this feature.
The best feature of all is one where you ride the chocolate river. This is where the chair comes into its own, moving with the graphics to give you a truly interactive experience. You'll accumulate lots of prizes by hitting targets as you go down the river, and have the chance of a significant windfall at the end.
Should You Choose The Willy Wonka Slot?
Everyone has their own taste in slot game types as well as movies. If you choose this game you are letting yourself in for a very intensive and entertainment heavy experience. There are still some big prizes on offer, though the focus is very much on providing that intensive experience to players.
Fans of traditional slots games might not appreciate this game as much as the casual gambler. I would recommend that everyone tries one of the next generation slots at least once. The genre is moving forward at a rapid pace and the Willy Wonka machine is a great example of what this innovation is capable of.
Other Movie Tie-In Slots
You will find a lot of movie tie-in slots at live casinos nowadays, many of these are the latest generation of interactive gaming experiences. I recommend checking out 'The Dark Knight Rises' which is based on the 2008 Batman movie. This contains many high quality bonus features and also lets you choose between playing as the Joker or Batman. For a less intensive, though entertaining alternative, why not try the Ghostbusters live slot instead.