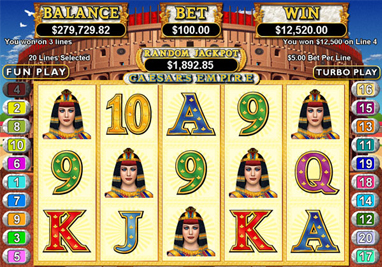 Review of the Caesars Empire Slot from Real Time Gaming
This is a clean, easy and entertaining video slot from one of the biggest casino software providers still licensing to US friendly online casinos. Caesars Empire is a game from Real Time Gaming, who are famed for their random progressive jackpots, as well as their huge list of video slot games. This game is themed on Ancient Rome and includes a free spin round and a chance to win up to 7,500 credits in any one game.
This review gives you a complete overview of the Caesars Empire slot game. First of all I have explained the basic setup of this slot, including the free spins feature round and progressive jackpot prize. After that the question of whether you should play this game, out of the 100's available, is considered. For those players who enjoy Caesars Empire and similar slots, I have suggested a small selection of games that you might like to try at the end of this page.
Caesars Empire Slot – Setup and Game Play
This is a 20 reel video slot, with the look and feel of some of the earliest video slot games. You can choose the number of lines, and the number of coins. Total bets can range from 20c up to $100 per spin.
The symbols are all ancient Rome themed, with stylized playing cards making up those that are not directly related to this theme. This is a low variance game, meaning you'll get plenty of small wins along the way while waiting for a bigger windfall. This can keep your bankroll turning over nicely and give you a lot of game-play for your money.
The main symbols are the Caesar coins, which act as wilds, the coliseum, which are scatters and the Cleopatra, which can give you the biggest win when you get 4 of these together with a Caesar. If you hit a Caesar, then the last reels will speed up and the 'whoooo' noise will start, giving you a little 'excitement' to see if you get to the free spins bonus round.
This starts off with 10 spins, where you'll get double pay-outs on any wins. What I liked about this bonus round is that additional Caesar symbols will add more spins to it. In theory this could keep your free spins round going for a long time and win you a nice windfall payment.
You can also win a random progressive jackpot by playing this machine. This is not life-changing money, just 4-figures at the time of writing. The great thing about this prize is that it can drop any time regardless of what is on the reels.
Caesars Empire Slot – Should you Choose this Game?
This is not a game at the cutting edge of slot design or interactivity. Even with the dated look and limited game-play options, this has remained one of the most popular Real Time Gaming slots online. The random progressive jackpot of course helps to keep people's interest up, and the simplicity of the main game does make for a relaxing slot session too.
The main appeal of this slot is that it is available at US friendly casinos. With many of the major software houses unable to serve the US due to legal uncertainty, the range of games accessible from the US has become limited. For this reason games might look a little older than some of the latest international titles available outside of the US.
My feeling is that this slot does stand alone in terms of being entertaining and easy to play. However it will not appeal too much to those players used to the latest live slots or games with many interactive video features.
Alternatives to the Caesars Empire Slot
These alternatives are at the less complex end of the slot gaming spectrum. There are many excellent games around which do not require intense concentration and interaction every couple of minutes. Many of these can still get you some big windfall prizes.
The Cleopatra slot is a great example of an old-school video slot which has stood the test of time. This game has been a fixture at casinos around the country for a long time, and can also be found online. You can win a free spins round with a 3x multiplier in the original version of this slot. The newer version has a free spins round with up to 12x any wins.
Sticking with the ancient times, Zeus is a slot based on Greek myths and legends which has been popular for many years. The twist with this game is the inclusion of a new symbol (the Greater Zeus) in the free spins bonus round. This symbol will turn a complete row in the normal 'Zeus' symbols,  which can net you some significant wins.