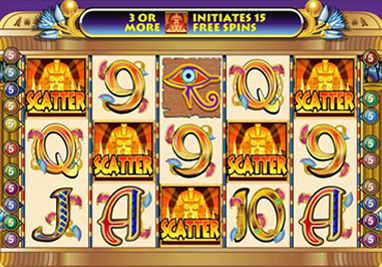 Review of the Cleopatra Slot by IGT
When it comes to a shortlist of the most popular live casino slots of all time, Cleopatra would almost certainly feature. By today's standards this is a simple game, with 5 reels and just the single free-spin based feature round. It stays popular partially because of that simplicity, the secret being great game-play and the chance of booking a big win. If you like this is the perfect antidote to some of the intensive slots which demand your full attention at every moment. Cleopatra is created by slots wizards IGT and now has an updated version which maintains the same game-play, only with updated graphics.
This page gives you a complete overview of the Cleopatra slot game. First of all below you will find the basic setup and game-play outlined, along with how the feature round is triggered and how this works. After that I there is a short summary of how the updated Cleopatra 2 slot differs from the original game. Next I look at whether you should pick this slot, after all, casinos offer you a huge variety of games to choose from these days. Finally, some alternative games are listed which are at the less complex end of the scale when it comes to slots games.
How the Cleopatra Slot Works
Cleopatra was one of the original video slots with multiple win line capabilities. This game has 5 reels, and up to 20 winning lines going from left to right. The symbols all have an ancient Egyptian feel to them, though unless you are an Egyptologist, I am not entirely sure you will know what these all mean.
This is a low variance slot game, which means there are plenty of smaller and mid-sized wins to keep your bankroll topped up. The best symbol is Cleopatra herself, and you can win a lot of money by lining up those mysterious eyes.
There is a free spins round, giving you 10 free spins with a  3x multiplier of any wins during the round. You trigger this by hitting 3 Cleopatra symbols on the reels. This is the only feature in this game, and does not require anything in the way of inputs from the player – you can just sit back and watch the credits roll in.
Cleopatra 2 – The New Generation
It really looks like IGT were being careful not to take away the core attraction of this game when they created the new version – its simplicity. Cleopatra 2 has definitely upgraded in terms of graphics, having a far more modern look and feel to it. There is still a free spins round. This starts off with 12 spins and can be re-triggered while you play (up to 50 total). The multiplier has increased too, with up to 12x on wins during this round – increasing by 1 with each spin.
You can also now play this slot online, at the (non-US) casinos which are able to license games from IGT.
Who Should Play the Cleopatra Slot?
With the pace of development in slots gaming increasing at an ever faster rate, the Cleopatra slot is an oasis of calm. Instead of needing to interact with and focus on everything the slot is doing, this is the kind of game you can relax with. The potential for wins is still there, it is just that the overall level of intensity is much lower than with the latest games. This slot will appeal to fans of the traditional 3 reel games looking for something to spice up the action. Video slots fans will find this a relaxing change.
Whether this appeals to those who head for the latest interactive and immersive video slot games is another matter – though you cannot please everyone with a single game!
Some Alternatives to the Cleopatra Slot
The alternative games I have picked for this slot are games with a similar level of simplicity in their game-play. These games are ideal for those players who do not enjoy the fast-paced new intensive games with their group bonus rounds and progressive features. These are entertaining games, which get the balance right between interesting themes, and big wins.
Zeus is a popular game which has also enjoyed more than one generation of development. Instead of ancient Egypt, this game is themed around Ancient Greece. The main game is very simple and enjoyable, you just line up the symbols for a number of big payouts. The free spins round contains one extra compared to the Cleopatra game. You get a 'Greater Zeus' symbol which turns all other symbols on the same row into more Zeus symbols – increasing your wins.
Going up one more level, many players will enjoy the Cheers slot. This is themed on the 1980's TV show, with relatively simple bonus rounds which are based around a spinning wheel and themed on the different characters.