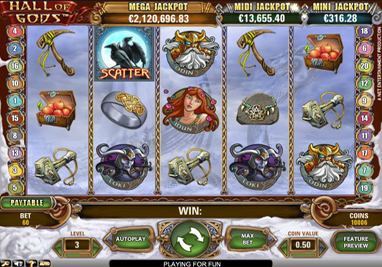 Review of the Hall of Gods Slot by Net Entertainments
Hall of Gods is an online slot game based on the Norse mythology theme. This is a very popular game, combining some great elements with a big jackpot, straight forward game-play and a feature round which can win you big prizes. This slot is from casino software providers Net Entertainments (known as NetEnt) and is available at many casinos around the world. NetEnt do not currently license their games to US friendly online casinos.
This review gives you a complete picture of the Hall of Gods slot. First of all the basic setup and game-play is covered, including the 'Thor's Hammer' bonus round. After that I have looked at the pros and cons of choosing this game, compared with the many others that you will find online. Finally, if you enjoyed the Hall of Gods slot, I have listed some slots which you might also find suited to you.
Hall of Gods Slot – Setup and Game Play
This is an atmospheric slot, with a stormy soundtrack and symbols representing many of the biggest gods from the Norse Legends. Thor, Freya and Loci all feature, along with other symbols related to the myths. This is a 3 reel video slot with 30 win-lines. You can select the number of win-lines you want to play, and the number of coins you want to bet on each line – the minimum spin will cost you just 30 cents.
In addition to the main symbols, there are wilds which show the head of a dragon. These are expanding wilds, and will grow to cover the entire reel when they land at the top or the bottom of the reels. This can result in some big wins, as lots of winning lines become active. The more lines you play for on each spin, the bigger the wins that will come from this feature.
While the sound effects overall are very good, and help to create the right atmosphere for this game, there is one out of place sound. For some reason the bonus symbol lands with a noise that sounds like an antique car honking its horn!
The bonus round is triggered by hitting 3 bonus symbols. What happens is that the symbols on the reels all turn into shields. At the same time your mouse turns into Thor's hammer. You strike the reels, revealing either a money amount (in credits, this will be multiplied by your line bet) or a one of the 3 jackpots. You continue striking until you have 3 matching symbols, at which point that is what you win. If you hit 3 of the 'mega' jackpots first, then you can win a 7-figure sum, at the time of writing this jackpot is more than 2.5 million euros. There is also a midi and a minor jackpot to win in this game. Both of these are also progressive prizes which are linked between different NetEnt casinos.
Who Should Play the Hall of Gods Slot?
This is one of many machines which hit that sweet-spot by having an interesting theme, a feature round and the potential for big wins. If you are familiar with the Thunderstruck 2 game from rival MicroGaming, you will see what this company has tried to create here. Some of the more recent slots include multiple bonus rounds, interactive features and video clips. Hall of Gods does not go for this niche, instead focusing on the big win, easy to play game and just enough interest with the expanding wilds and multiple win-lines to keep you coming back for more. My view is that they have succeeded, and that this game is at least equal to Thunderstruck 2. I recommend that you give this game a try, you just never know when that multi-million euro jackpot is going to drop.
Some Alternatives To the Hall of Gods Slot
The obvious alternative is Thunderstruck 2 at rival software creator MicroGaming's casinos. This game is extremely similar, both in game-play, look and the general atmosphere while you are playing. Both slots have big progressive jackpots too.
Outside of this one the Zeus live slot is one for your shortlist. This Vegas slot from IGT has been so popular over the years that successive generations have been created. There is only a single bonus round in this game, which features an extra 'Greater Zeus' symbol which turns everything else in its row into a Zeus. This means that the bonus round can add some significant windfalls.
Another slot based on mythology switches to Egypt. Cleopatra started off as a Vegas slot, and has resulted in big payouts for thousands of players over the years. Now you can find versions of this game (number 2 has already been released) both in live casinos and online.