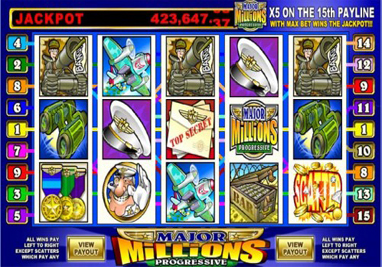 A Review of the Major Millions Slot from MicroGaming
This is an old style 5 reel video slot game from casino software giant MicroGaming. The theme is military, with the story being based around a WW2 era cartoon Major. This is an entertaining slot game, and has both a free spins round and a progressive jackpot. This game lacks the interactive and interesting features which many of today's slots share. It will appeal to those who like to keep their slots sessions, relaxing, entertaining and yet still have the potential for some big money wins. There is an older 3-reel version of Major Millions, which shares the same progressive jackpot.
This review of the Major Millions slot gives you a complete overview of this popular game on a single page. First of all below, I have gone through everything you need to know about the setup, game-play and the jackpot. After that a critical look at the question of whether you should play the Major Millions is asked. Finally, for those who enjoy big jackpot video slots games (both live and online), I have covered some more games which you might be interested in playing.
Major Millions Slot – Game Play and Slot Setup
This is a simple 15 win-line video slot game. You get a choice of betting between 1 and 5 coins on each line, and selecting the number of lines you want to play. The jackpot payout is for max bets only in this game.
The symbols are all military themed, with quirky cartoon feelings to them. For example, the tank symbol has a 'Bang' flag and the plane is bombing money instead of bombs. The Major himself features on the reels, as does a 'Top Secret' envelope and several other symbols. This game does us a scatter symbol (which simply says 'scatter'). The main-stay of this slot is the numerous small wins that you will accumulate by lining up the different symbols. There is a jackpot, however this is not a high variance game. In fact your bankroll can turn over quite nicely with the small wins flying in very frequently.
When you get a win including a wild symbol (the Major) then you'll get 3x the payout. This somewhat makes up for the lack of a free spin or bonus feature on this particular game.
You'll need 5 Major symbols to win the progressive jackpot, which often gets into the high 6-figure range and sometimes over the million mark. It is important to remember that you need to bet max coins to be in with a chance of this progressive, this is a minimum of $3, which gets expensive for those players with smaller bankrolls.
The 3 reel version has just the single win-line and you need to match up the Major jackpot symbols to scoop the big prize. This will appeal to fans of the old-style slots, though it does lack any special; features or interactive elements.
All in all this is a simple and entertaining slot, with the chance of a big win.
Should You Play the Major Millions Slot?
Compared to many slot games, this one definitely does feel dated. Whether this is a reason to move on and choose some of the alternatives really depends on your personal preferences. For players who enjoy the simple and traditional slot games, and find the interactive bonus features a little tiresome – this could well be the ideal game. If you are used to the excitement of video bonus rounds and multiple clips and interactive features, then you are likely to find the Major Millions slot a little too slow.
One big advantage is the jackpot potential. This game has been making players very rich regularly for many years, and that jackpot keeps on growing.  If you enjoy the relaxing types of games which do not require too many decision points or interactions along the way, then this could well be an ideal slot for you.
Alternative Slots you might like to try
There are 100's of slot games to choose from nowadays, with many sharing qualities with games like the Major Millions from MicroGaming. Some slots are found only in live casinos, while others can also be accessed at online casinos – including some that still welcome US players. Here are some slots that you might want to try out for yourself.
Caesars Empire is an online slot which is found at casinos that offer the Real Time Gaming software suite. This is also a video slot, and is also a more traditional model, without too many features other than a free spins round and random progressive jackpot. Certainly one for the shortlist.
Live casino fans will enjoy the Zeus slot, which has proven so popular that new versions of the game are being developed. This is also a relaxing slot to play without too much intensity of interactions. There is a free spins round which can get very profitable if you manage to hit 'Great Zeus' which is a new symbol which appears especially for those free spins.