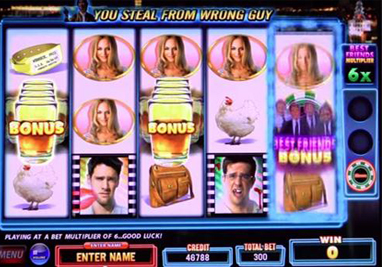 Review of the Hangover Live Slot by IGT
Movie tie-in slots are big business nowadays. For those familiar with part 1 of 'The Hangover' series, it should come as no surprise that this movie is perfect material for an interactive slot game. This game is one of the new generation of interactive slot games from IGT. It is already a big hit in casinos in Vegas and around the country.
This page gives you a complete overview of The Hangover slot machine. First of all below you will find information on the general setup of this slot and the basic game-play. After that the bonus rounds – which are each themed on one of the characters – are discussed. Next the important question of whether you should choose this slot game from the 100's of other competing titles is covered – before I look at some other notable movie tie-in slots at the end of the page.
Setup and Game Play for the Hangover Slot
There are plenty of extra features, gimmicks and extras associated with this slot – though it is all based on a 5-reel 30 pay-line video slot setup. You can get up to 4 sets of reels on a single screen, with them just shrinking to fit. This will cost you more, however the more frequent bonus rounds will up the entertainment value if nothing else.
This game is 'hosted' by Mr Chow, the gang leader from the movie. This adds considerable humor to the game, with funny remarks on your play (some encouraging some disparaging) as you go along. You'll find him smashing reels on occasion, turning the symbols into wilds for bigger wins – this can also happen when a police car screeches onto the screen.
Aside from the bonus rounds, you will collect plenty of small wins as you play. The symbols are pictures of Stu, Alan, Doug and Phil, along with card symbols and other objects associated with the movie. 3+ symbols is enough to net you a small win and 5-of-a-kind can give your bankroll a bigger top-up.
Bonus Rounds on the Hangover Slot
The bonus rounds are progressive on these slots, meaning you can enjoy some bigger windfalls if the top prizes have not been won for a while. These are pick-em type bonuses, where you are given items from the movie to choose from, each revealing a different prize.
Stu's Progressive Pick involves choosing a tooth – and is based on Stu losing one in the film, Each of these reveals a prize, some of which can be 1000+ credits. There is also a Wedding Chapel bonus where you have to match items hidden in different boxes, and a Villa bonus based on selecting different rooms. My personal favorite is the Stun Gun bonus, where you get to hit Alan with a stun gun by hitting a button, the credits go up the longer this goes on.
Should You Choose the Hangover Slot?
This is a truly entertaining game, and I am sure that the millions of people who enjoyed the movie will love this game. There are two questions to address, first whether this would work for people who have not seen the movie, and second, after the initial entertainment value has worn off, is this game good enough to keep people interested over the long term?
For the first question I would say no, without understanding the humor behind the bonus rounds or Mr Chow's comments – this game would seem odd rather than funny. This is a similar situation with most TV and movie tie-in games, and should not be taken as a major negative.
Longevity is a trickier question. The mix of bonus rounds and incremental wins does give this slot a solid basis. While there is no big jackpot, the progressive bonus round payouts certainly add some interest. I can see fans of the movie giving this game a few sessions, though this game is probably not destined to be one of the 'all time greats'.
Other Slots with Movie Tie-Ins
The Hangover is one of a long list of slots with movie tie-ins coming out at the moment. Many of these are the latest generation of interactive (and even multi-player) games. While the clips and complex feature rounds may not appeal to traditional slot fans, they are bringing a whole new demographic to the games. One thing you can certainly say about movie tie-in slots is that you get a lot of entertainment to go with your gambling.
There are two which I recommend for anyone who enjoys the Hangover slot game. First, the Dark Knight Rises is a must-play game. Based on the 2008 Batman film, this is a multi-player slot with some very entertaining feature rounds.
Another great movie slot is the progressive Godfather game. Here the bonus rounds get better as you move higher within the 'family'.