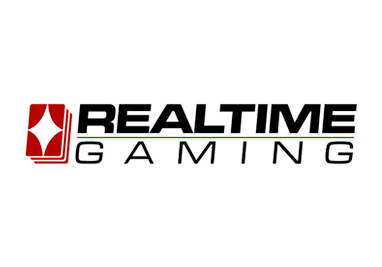 Your Guide to the Slots of Real Time Gaming
Real Time Gaming is the single biggest casino software provider who license their games to casinos  which allow US players. You will find these distinctive slot games at a lot of these US online casinos. They are good enough to attract a lot of fans, without being anywhere near the level of advancement of the global giants like PlayTech or MicroGaming.
This page gives you a complete overview of Real Time Gaming slots, providing all you need to know about these games on one page. First of all you will find some background on the company behind RTG slots, which started out in the US. Next some of the most popular Real Time Gaming slots are covered, and their showcase 'Real Series' games are explained. After that I have looked at the rest of the slots range from RTG and briefly covered their table games. Options for playing these slots on your mobile devices is the subject of the last part of this article.
RTG Slots – A Quick History of Real Time Gaming
This dedicated casino software company was started in the US, and were based in Atlanta, Georgia from 1998 through to 2007, when they moved to Costa Rica. This move was prompted by legal changes in the US which made payments to online casinos more difficult. The company was bought in 2007 by 'Hastings International', a holding company based in Curacao, Netherlands Antilles.
One feature of this software provider is that they are flexible in their licensing terms with the casinos that run their games. While other providers steer clear of casinos that offer games to US players from offshore, RTG continue to license to these casinos. Their argument is that it is up to the individual casinos to determine the legality of their operations under international law.
RTG slots allow for shared progressive jackpots. These are configurable, with some casinos contributing to an overall pool, others keeping the jackpots within their own casinos, and still others forming small groups of shared jackpot amounts.
RTG Slots – The Most Popular Real Time Gaming Slots
A notable feature of Real Time Gaming slots is that many of them have random jackpots. These are known as 'Real Series' games and drop jackpots at random intervals, irrespective of what is on the reels at the time. This is entertaining for players, you can look at a screen full of jumbled symbols – and suddenly end up with a huge windfall. There are also more standard progressive jackpot payouts, which are tied to individual slots.
The best known game of all at RTG is called Aztec's Millions, this is a 5 reel video slot with a distinctive setup and border which is based on the ancient South American civilization. There are 25 win lines, wild symbols and a scatter, plus a free spins bonus round. This is not an advanced machine, it reminds me of the new live casino slots from 10 or 12 years ago. What it does have going for it is solid game-play and that big progressive jackpot. If you find a RTG casino who contributes to the big pooled jackpots group you will often find this in the mid 6-figure to lower 7 figure range.
Caesars Empire is another popular RTG slot, this one has a 'Real Series' random jackpot. This is relatively small (just $2k at the time of writing), and drops randomly. The game itself is simple yet entertaining, and is based on ancient Rome. With 4 Cleopatra's and a Caesar on a winning line, you can find yourself in for a big jackpot.
RTG Slots – The Wider Slots Range
There are already over 100 slots available at RTG casinos. These are almost all the same setup, 5 reels, up to 30 win lines, a choice of coin sizes and free spin rounds to keep your bankroll topped up. This range does include some entertaining titles, and enough variety to keep you interested. If you are from outside the US, you cannot help but notice how far behind these slots look when compared to some of the international software houses. It feels like the developers are trapped a decade back and are doing a great job of innovating based on some very old technology.
If you prefer the less intensive slots games, then there are definitely some solid titles in the RTG range. For a more modern experience, the US-friendly BetSoft are much further ahead on the development cycle.
RTG – Other Casino Games
This software house has some solid casino table games and novelty titles. If anything their table games are stronger than their slots range. Simple, fast and very playable would sum up several blackjack variations, roulette, baccarat and more.
RTG Mobile Options
At the moment this casino have not embraced mobile technology. If you are using a larger screened tablet device you can access some of the titles through your browser. Again, for US players seeking games which work on their phones or smaller tablets – BetSoft are the software provider to go for.