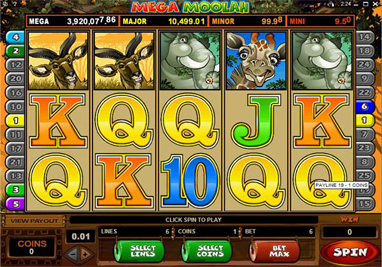 MicroGaming's Most Popular Jackpot Slot – Mega Moolah
Jackpot slots can be found at most online casinos nowadays, though very few of them turn out to be as enduringly popular as Mega Moolah. This is a relatively simple slot by today's standard, with just one major draw – the huge progressive jackpot payout. This game is linked between casinos running the MicroGaming Software suite. This means that the jackpot grows fast, and that there are enough people enjoying the game keep the jackpot wins (and publicity for the machine) coming fast. The single biggest win to date was a staggering $3.7 million.
This page is a complete guide to the Mega Moolah Slot machine. First of all below you will find an overview of how this game works, including look, game-play and features. Next the bonus round and jackpot is covered, this is the important part for most readers. I have then outlined the pros and cons of choosing this slot, with some alternative online jackpot slot games covered at the end of the article.
How the Mega Moolah Slot Machine Works
Once you have seen this game you will find it instantly recognizable. The distinctive orange color scheme, wild animals and overall cartoon-like look and feel make this slot feel familiar to thousands of fans.
This is a 5-reel video slot game with up to 25 winning lines. When you play you get to select the number of win lines, and the size of your coin for each line. The minimum you can play for is 25c and the biggest amount per spin is $6.25c. You can still win the jackpot with the smallest amount, with your chances on any one spin increasing proportionally to the amount you spin for.
The symbols on the reel are cartoon animals, they have a friendly look to them and include an lion, giraffe and monkeys – with the moneys acting as the 'scatter' symbols. You should be happy to see the lions, as these are wild, substituting for any other symbols along the win-lines and potentially creating a large number of winning combinations.
You'll find plenty of opportunities for small and mid-sized payouts on this slot. With 3, 4 or 5 symbols giving you increasing numbers of credits. If you get 3 monkeys anywhere on the reels, you will trigger a special free-spins round. For 15 spins, you will get wins multiplied when Lions show up on the reels – potentially a big windfall.
While the standard play can be profitable (you can win up to 225k times your line bet), what most players of this game are waiting for is the progressive jackpot game.
The Jackpot Bonus Round on Mega Moolah
You will trigger the jackpot game by having 5 Lions on any one of your 25 winning lines. This takes you to a new screen with a special bonus wheel on it. You will find that there are 4 separate jackpots you can win. In addition to the multi-million 'Mega' jackpot, there is a 'Major', a 'Minor' and a 'Mini' prize – with descending amounts.
You'll spin the wheel, and hope that it stops on the 'Paw' symbol for the big one. This is a heart-stopping experience for many players – so you had better be prepared for the excitement of seeing which big jackpot you have won.
What attracts people to play Mega Moolah is the great combination of simple game-play and the potential for a life-changing jackpot. I recommend you check out this game for yourself soon.
The Pros and Cons of Big Jackpot Slots
Each time you spin, some of the money you play for gets removed and added to the progressive jackpot totals. This creates the situation where most players are contributing more money to the 'house' than they might be playing other slot games. If you work out the percentage RTP (return to player) this might be very high. Since it includes the jackpot, the RTP for the vast majority of players is much lower. Big jackpot slots are higher variance, meaning you would need to play them for a long time to get close to the average returns as an individual.
While the extra coins you spend could be thought of as a down-side, there are some positives which come from choosing Mega Moolah or other big jackpot slots. The obvious one is that you could win life-changing money. What is less obvious is that you get the chance to dream of what you would do with the money. Even if you do not win it this session, who knows what might happen next time you log on.
Alternatives to Mega Moolah
There are 100's of jackpot slots which you can play online. If you enjoy MicroGaming software, then another big game they are pushing heavily is ThunderStruck 2. NetEnt casinos have the alternative Mega Fortune slot game, which paid out the single biggest jackpot of any online slots game. PlayTech also has a range of jackpot slots, including their famous 'Marvel' range.